The US Attorney's Office for the District of Columbia has just handed down a recommendation of absolutely ZERO prison time and some light community service for Mr. Jason Robert Charter,  a 27-year-old convicted Antifa rioter who pleaded guilty in connection to two separate riots in DC during the 180 days that Black Lives Matter and Antifa arsonists and rioters held 120 American cities under siege causing about $2.5 Billion in cumulative damages and costing at least 25 lives. This is the exact same US Attorney's Office who are throwing the book at January 6th rioters, in a massive, politically motivated example for the rest of the country. Many of whom have no criminal record to speak of, Charter has two other open assault cases in progress.
According to The Post Millennial,
"US Attorney Matthew Graves recommended that the court sentence Charter to just 30 hours of community service, three years of probation, 45 days of home detention, a $500 fine, and a $2,600 restitution payment to the Treasury, according to court documents."
Conversely when it comes to the J6 rioters, "Federal prosecutors in the District have charged more than 725 individuals with various crimes in connection with the deadly Jan. 6 insurrection, when hundreds of rioters forced their way into the U.S. Capitol, the U.S. attorney's office said" WaPo reported. "Of those arrested, 225 people were charged with assault or resisting arrest. More than 75 of those were charged with using a deadly or dangerous weapon against police officers. "
"So far, 70 defendants have received some kind of sentence from a judge. Of those, 31 people were ordered jailed, and 18 were sentenced to home detention. The remaining 21 defendants were placed on probation."
One of these things is not like the other.
.@USAO_DC recommends no prison time for DC #Antifa Jason Charter for Albert Pike + Andrew Jackson statue attacks during the DC George Floyd #riots.

They recommended 30 hours community service, 45 days home arrest and $3100 https://t.co/LZ5cSxU0da pic.twitter.com/DKvqoMpTLI

— AntifaWatch (@AntifaWatch2) January 4, 2022
Unlike J6 Rioters Biden Called "Arsonists" -Antifa Rioter Committed Arson
Amazingly, whereas Joe Biden in front of the entire nation referred to some J6 rioters as "arsonists" when no arson actually took place, Charter who was shown ON VIDEO setting the statue of Albert Pike on fire on June 20, 2020, wasn't even charged with arson! Instead he managed to plead that down to "Destruction of Government Property", "Destruction of Veterans' Memorials", "Aiding and Abetting, Causing an Act to be Done"
See- Actual Arsonist: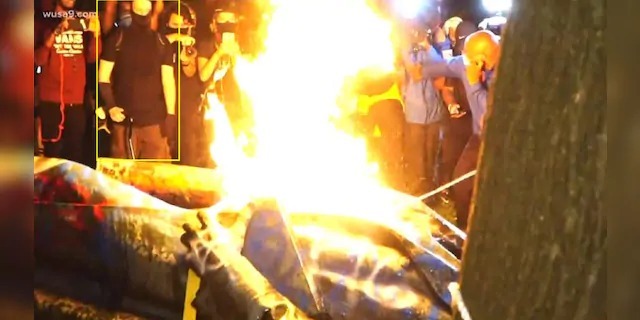 Apparently, it makes all the difference if you come from a "well-to-do family" in an "upscale neighborhood of DC" unlike  Robert Scott Palmer, 54, fromLargo, Fla., who received the longest prison sentence to date among those convicted in the attack after he too took a plea deal to resisting arrest and assaulting officers with a dangerous weapon. Exactly what did he do? As WaPo reported, he "threw a wooden plank at police officers; then, they said, while he was on the front line of the riot, he sprayed police officers with a fire extinguisher and hurled the emptied extinguisher at the officers. No officers, prosecutors said, were injured."
Looks like Mr. Charter assaulted an officer too. But he certainly didn't catch a five year prison sentence for it did he?