Far left terrorist, turned CNN paid-contributor John Earle Sullivan (aka John Sullivan, aka JaydenX) is facing eight criminal charges including weapons charges for his actions while breaching the US Capitol on Jan 6th. Sullivan while masquerading as a 'journalist' was one of the Antifa/BLM agitators who encouraged violence and destruction that day.
The 'journalist' also captured tragically graphic video of the shooting of Ashli Babbit by Capitol police, footage which netted him $90,000, money now seized by law enforcement.
Most of the mainstream media have attempted to refute any relationship between the Antifa extremist and CNN. However, pictured below is the Non-Exclusive License agreement he signed with CNN, revealed by Politico's Kyle Cheney. While this does not create an employer-relationship it did make James a 'paid-contributor' as defined in the media. (USAToday 'Fact Checkers': Eat your heart out.)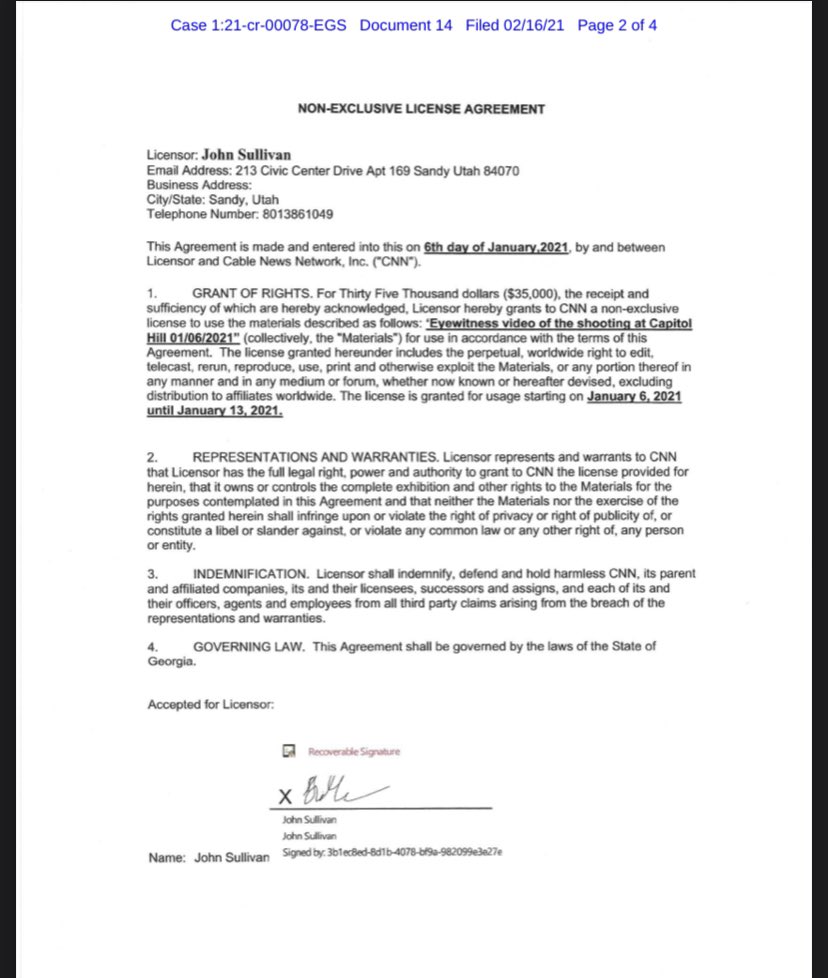 NEW: John Sullivan, charged for his participation in the Jan. 6 riots, was paid $35,000 apiece from CNN and NBC for his footage inside the Capitol. More on his detention hearing from @joshgerstein https://t.co/m46NgKVzKA

— Kyle Cheney (@kyledcheney) February 17, 2021
According to The Western Journal,
"Sullivan is the founder of the group Insurgence USA. In February, prosecutors said the group was "absolutely the instrumentality through which Mr. Sullivan committed the relevant acts," according to Politico.

"It is Mr. Sullivan's reason for being there and for his criminal participation in the riot," U.S. Attorney Candice Wong argued at the time as Sullivan was banned from using social media, Politico reported.

She noted that his videos were supportive of violence, including violence against police and that he is "a sort of expert resource for rioters."

"Under the guise of journalism … he is engaged in and incited violent activity, including the kind of destructive society we saw on Jan. 6," Wong said,"
Independent 'Journalist' Sullivan Revealed as BLM/Antifa Terrorist
Politico reported that Sullivan's defense attorney's admitted invoices as evidence showing that CNN and NBC paid out $35,000 in January for the rights to his footage. Patriot United News and The #HollowNet revealed this man to be a BLM/Antifa extremist in early February! It's STUNNNING that it has taken the DoJ this long to come to the same conclusion! Let's simplify all of this: John Earle Sullivan,
Helped instigate the violence at the Capitol, caught on video according to court docs "saying after the crowd broke through the last barricade, and as Sullivan and the others approach the Capitol Building, he can be heard in the video saying at various points:
'There are so many people. Let's go. This shit is ours! Fuck yeah,' 'We accomplished this shit. We did this together. Fuck yeah! We are all a part of this history,' and 'Let's burn this shit down.'"

As individuals are climbing the wall, Sullivan can be heard saying, "You guys are fucking savage. Let's go!"

During one of his interactions with others, Sullivan can be heard in the video saying, "We gotta get this shit burned."

Sullivan can be heard saying, among other things, "it's our house motherfuckers" and "we are getting this shit." "Why don't we go in there."

After someone hits against the door, Sullivan can be heard saying, "That's what I'm sayin', break that shit." Further down the hall, Sullivan can be heard saying, "It would be fire if someone had revolutionary music and shit."
John then captured footage of the chaos he helped create and foment. Including graphic video of the death of Ashli Babbit.
He then sold the footage and profited from his criminal activity to the mainstream media who purchased the video and profited from it.
Sullivan then made appearances on CNN's Anderson Cooper and ABC's Good Morning America, seeming to enjoy his newfound celebrity.
Therefore, the January 6th Capitol Breach was in part: engineered and exacerbated by leftists like John , who helped to create a tragedy which he then "reported" on and profited from, as mainstream media outlets did as well.
Leftist politicians have also since profited from the FEAR that this event generated. We can only hope that James is the first of many leftist conspirators who helped to stoke the fears of the American people for their own benefit.
Check out the video below for a breakdown of John or JaydenX or whatever he is calling himself (in jail) and his insane leftist extremism.