Just south of the Turkish-Syrian border near the town of Atmeh, US Military forces attacked a house that held Islamic State leader Abu Ibrahim al-Hashimi al-Quraysh. According to reports, the terrorist leader was killed along with 13 others including 6 children and 4 women when he detonated a hand grenade. A US Army Apache Attack Helicopter out of Erbil, Iraq suffered an unknown equipment failure during the attack and was intentionally destroyed by US Special Forces rather than allowing the sophisticated aircraft to fall into enemy hands as happened en masse in Afghanistan in August 2021.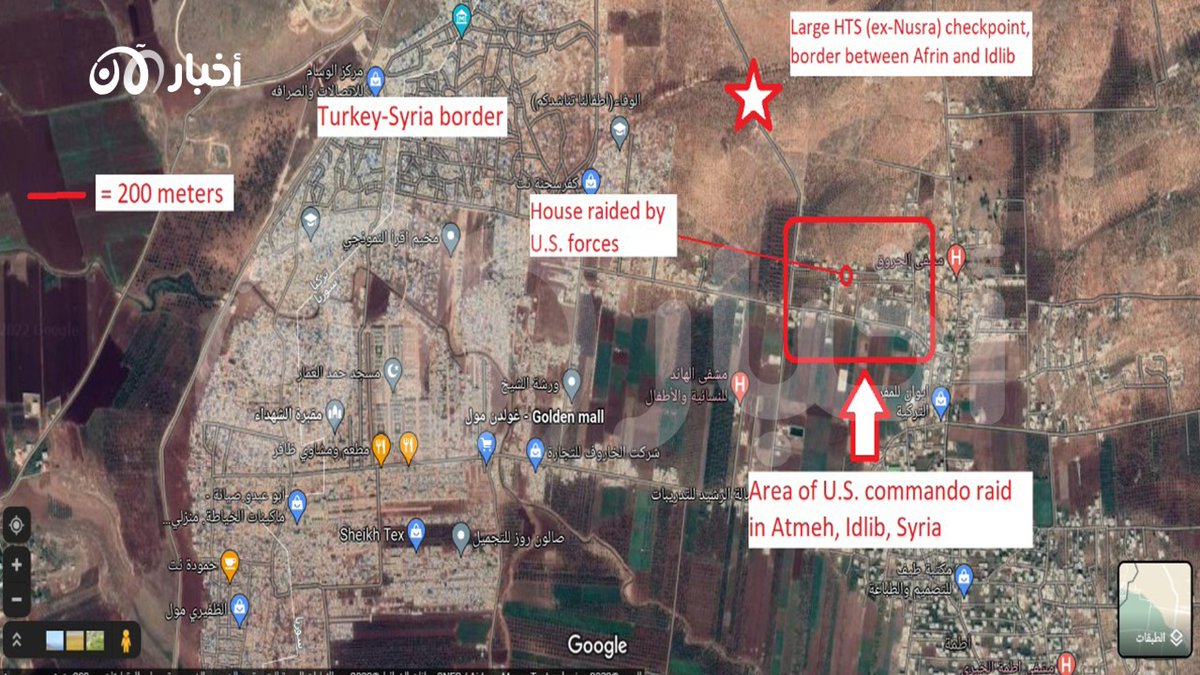 Helicopter Destroyed, Civilians Dead In Botched Special Forces Raid
According to Arabic News outlet Akhbar Al Aan based out of Dubai, UAE, the story on the ground in Atmeh is much different from the one the Biden-Harris regime is telling the American people.
"Despite the first news that US forces had killed the ISIS leader, details soon revealed that he blew himself up before the US strikes.

A senior US administration official said al-Qurashi died at the beginning of the operation when he detonated a bomb that killed him and his family, including women and children.

The official stated that Al-Quraishi used a hand grenade, and it was not confirmed until now whether the leader committed suicide, or that he blew himself up by mistake."
Al-Aan TV reporter Jenan Mousse reported that "Acc[ording] to eye witnesses, an Iraqi speaker who was with the Americans shouted through a loudspeaker during Atmeh raid: 'You have 15 minutes to surrender & get out of the house.' However occupants refused & a gun battle erupted,"
"Just to clarify: The damage done to the U.S. helicopter, as seen on the pictures, is not due to landing/crash or enemy fire," the reporter claimed. "The Americans destroyed the helicopter themselves after an unknown failure forced it to land."
According to a statement from the White House, "All Americans have returned safely from the operation." which, if true is an unexpected blessing given the horrific information now coming from the small Syrian town.
Multiple reports arising from local sources in the region have indicated that an overall botched operation, took place over the course of nearly three hours, far longer than an operation with what Biden called "signature preparation and precision" should entail and with far greater casualties than "every precaution possible" to minimize them would seem to allow for. The reported fifteen-minute ultimatum would apparently allow for some attempt at escape or preparation for a violent last stand, or in this case, a brutal and gruesome suicide bombing, or accidental death through a botched booby trap. And further, the loss of a $930 million attack helicopter due to a mechanical or engineering casualty during a mission speaks poorly to the readiness of our military under Biden.
While the White House celebrates a ' Biden's victory', it seems more like this was a mission barely accomplished, with high collateral damage, owing its success exclusively to the courage and tenacity of our troops, and not support from their upper-level commanders at the Pentagon or the White House.  The unnecessary deaths on the ground in Syria were tragic and likely avoidable. We can only be grateful that no Americans were killed or left behind.
Join me as I deliver remarks on a successful counterterrorism operation in Northwest Syria to protect the American people and make the world a safer place. https://t.co/RwBJYD9s5m

— President Biden (@POTUS) February 3, 2022