Lately, the media has been full of stories showing nasty messages to waitresses for whatever reason, many stories end up being fake. This Outback employee wrote a simple note that has gone viral illustrating how desperate we are to show a little kindness and respect.
For Outback Workers showing some respect can mean paying for their customers' meals as we see in this heartwarming story.
Police officers have a hard job, one made even harder by the current political climate.
After a long, exhausting shift, four Louisiana police officers decided to eat dinner at their neighborhood Outback Steakhouse. That one decision left them with a major surprise.
Local news Fox8 reported about the incident that happened at the Outback Steakhouse in Slidell, Louisiana. The same steakhouse our four on-duty police officers went for a post-work meal.
Nothing particularly stood out about the evening as the four officers' meal was served as it should have been and they were mainly left alone to enjoy the after-shift cool down before going home. However, it was after they saw their receipt that they discovered a huge surprise.
Zoë Rao was their waitress at the Outback Steakhouse, she said, "They're the sweetest guys, I enjoy waiting on them."
What happened next is what made this story go viral almost overnight.
Manager Arline Wood, an 18-year veteran of the company, saw the officers come in and recognized them as regulars at the restaurant. She and waitress Zoë Rao devised a plan together.
To the officer's astonishment, the server and manager picked up their tab. They also left the law enforcement group a sincere note thanking them for their community service was also written on the ticket.
The note started at the very top of the receipt that goes, "Be safe!" and further down it said, "Thank y'all for y'all's service! Enjoy y'all's meal on us!"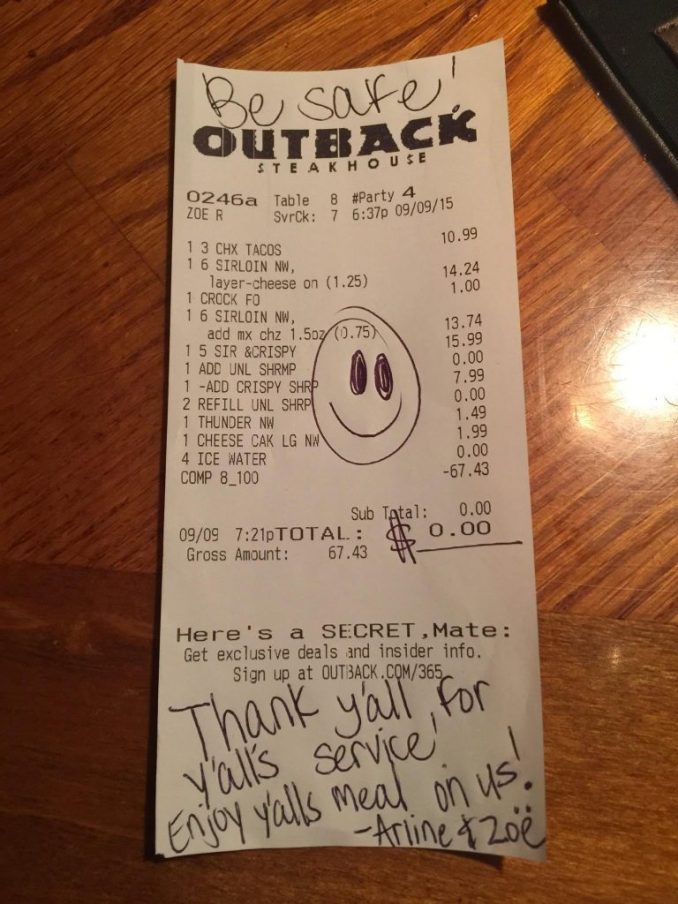 Arline Wood said, "They care about the community. They care about everybody. They're just great guys. Our whole police force is great and these guys at night, I went to Zoë and I said, let's take care of it."
To show their gratitude, the officers reportedly left a hefty tip to show their own gratitude.
Later, the Slidell Police Department posted a photo of the receipt to their Facebook page as a way to honor the two Outback Steakhouse staff members. It quickly went viral.
That may not have been what the pair wanted but their kind action is a teaching moment for us all.
Sources: Taphaps, Opposingviews, Lovethispic